Armadale Fitness and Aquatic Centre offers a modern Health Club featuring state of the art equipment and technology to maximise your health and fitness experience.
Covid-19 Update
Our staff have all completed mandatory hygiene training and additional cleaning measures have been implemented. Hand sanitisers are in multiple areas throughout the facility and we ask that everyone make use of these.
Staff will clean equipment throughout the day but we also ask that our members play their part and help maintain cleanliness by using disinfectant wipes to clean equipment before and after use.
A full size towel is compulsory when using gym equipment. Bring a water bottle to stay hydrated and our staff would love if you bring your smiling faces, we've missed you!
We are continuing to work hard to offer free virtual fitness on the Mywellness app and via our Youtube channel. 
We offer a modern Health Club featuring state of the art equipment and technology to maximise your health and fitness experience.
Our Health Club is fitted out by Technogym - the official supplier to six Olympic and Paralympic Games - so you can be certain that you're training on the very best equipment, just like a professional athlete! It's also fully supervised by qualified Gym Instructors (who can support you in achieving your fitness goals), and gives you access to cardio, strength and functional training. As a Health Club member you'll receive a complimentary health appraisal and a personalised workout program tailored to your specific needs.
So whether you're looking to lose weight, improve and maintain overall health or simply have fun working up a sweat, we invite you to start your fitness journey at our Health Club.
Speak to one of our friendly gym instructors next time you visit to enquire about your free appraisal and workout program.
Mywellness
We're dedicated to helping you smash your fitness goals. Our members have the ability to track their workouts and movements using Mywellness technology. 
Mywellness allows you to track all of the activities that you do at our gym or outdoors, measuring kilometres travelled and calories burned. Every physical activity you take part in enables you to collect MOVEs. These are units of measurement that you can compare with your friends, to see who is most active
Simply set up a Mywellness account, and sync your devices with our Mywellness compatible gym equipment to view your workout history and access your personalised training program.
Members Only Monthly Health Club Challenge
Staying motivated and committed to your fitness journey can be challenging. Sometimes a bit of friendly competition can be just what you need to shake up your fitness routine. Unleash your competitive spirit and join our monthly Health Club challenge to push yourself that extra bit and smash your fitness goals! 
Challenges are exclusive to members only and details are available each month on the MyWellness app or through the Technogym kiosks in the Health Club. Speak to our friendly Gym Instructors if you need a hand getting started.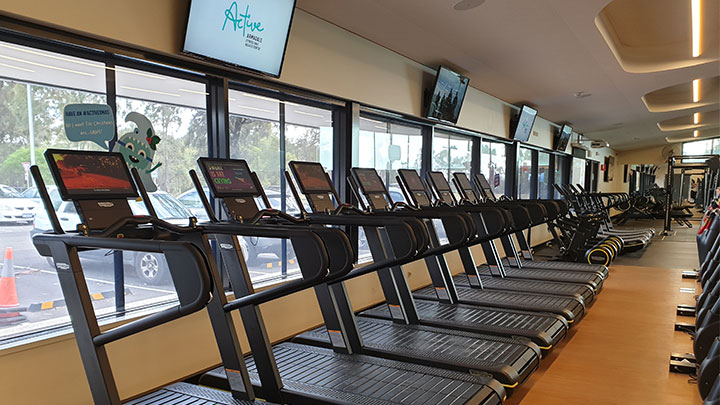 Cardio
Cardiovascular training provides many health benefits. This type of exercise can result in a stronger heart and lungs, improved bone health as well as a reduced risk of heart disease and diabetes. Our Health Club offers a range of cardio equipment including treadmills, upright and recumbent cycles, cross trainers, stair climbers and rowers.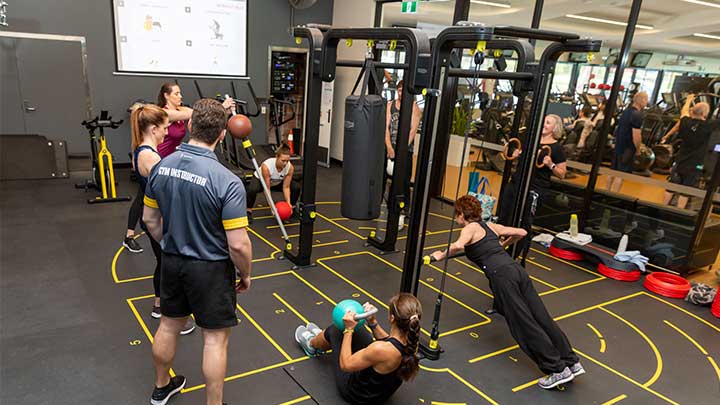 Functional Training
Functional training should be a core part of your exercise routine. Functional exercises incorporate multiple joints and muscles that are used in common every day movements to improve mobility, flexibility and endurance. Check out our Omnia8 functional training zone.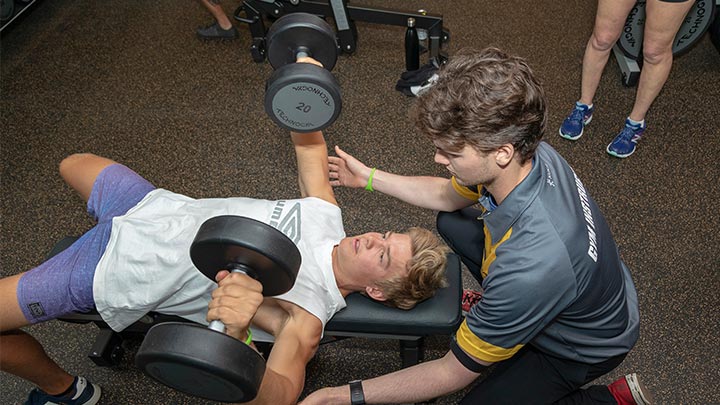 Weight Training
Weight training is key, not only to build muscle but also to tone your entire body. Our Health Club has a large selection of plate loaded and pin loaded machines and free weights, adjustable benches, presses, pulldowns, dumbbells and more.